For all you choco-holics out there, this is the recipe for you. I didn't personally develop this nor do I remember where the hell it came from (I've been making it for years), but if you want an awesome dessert and people to think you're a baking goddess/god, try these little cakes out. For the record, it looks complex, but don't let it scare you.


Chocolate Lava Cakes-
Cake Batter:
7 oz bar of Dark Semi Sweet Chocolate
8 TBSP Butter
1 TSP Vanilla
3 Eggs
1/3 Cup Sifted Cake Flour
1/8 TSP Salt
1/8 TSP Cream of Tartar
1/4 Cup Sugar
Lava Centers:
2 oz. Dark Semi Sweet Chocolate
1.5 oz. heavy cream
1 TSP Butter
CHOCOLATE LAVA CENTERS (ganache) Directions:
Chop dark semi-sweet chocolate into pieces. Place into a metal bowl. Heat heavy cream, pour over chocolate and whisk until smooth. Add butter and whisk until incorporated.

Place mixture into the refrigerator to cool. Every few minutes whisk the mixture until a frosting like consistency is reached. If the mixture becomes firm slightly rewarm.

Fill a pastry bag with the ganache ( I use a zip lock bag or just say screw it and roll the ganache into balls). Pipe-out "cherry" sized portions. Place these mounds into the freezer until ready to use.


CAKE BATTER DIRECTIONS:

Chop the dark semi-sweet chocolate into pieces. Place into a metal bowl, add butter. Melt over a simmering waterbath. Remove from heat.

Add vanilla extract and (3) egg yolks. Whisk together until chocolate mixture is smooth.

Add well sifted cake flour, and gently incorporated into the above chocolate mixture.

Place the (3) egg whites into a clean metal bowl, add salt and cream of tartar. Using a whisk, whip egg whites until soft peaks form. Continue to whisk while slowly sprinkling in the sugar.

Using a rubber spatula, carefully fold 1/3rd of the egg whites into the chocolate mixture. Then fold-in another 1/3rd of the egg whites. Then fold-in the last 1/3rd of the egg whites.

Deposit the batter into large "non-stick" muffin tins - fill 3/4 full. Ramekins can also be used simply butter insides and dust with cocoa powder.

Push a Chocolate Lava Center into the center of each cake batter.

Bake at 375F degrees for 15 minutes.

Remove from oven, wait 5 minutes, then unmold. Best if eaten right away, but you can put in the fridge and reheat in the microwave.
ZOMG a cake: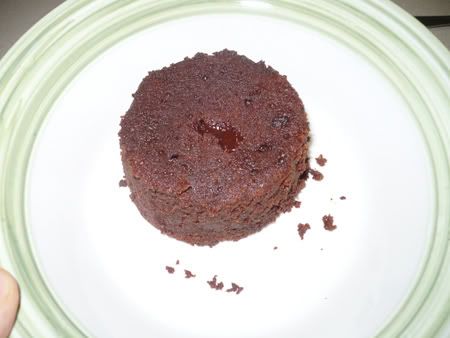 Finished cake cut open: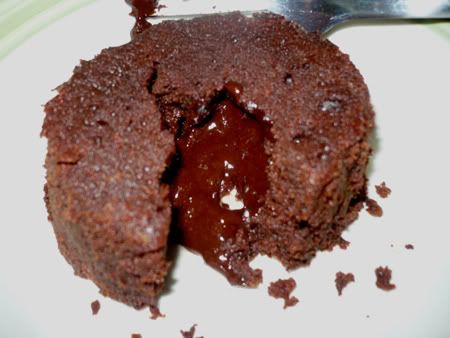 You must eat them with ice cream: